The apple diet is a proven diet for decades. It has helped many in the fight against excess weight. Will help and you.
Everyone has probably heard about how important the apple diet is for weight loss. Three days on fruit is said to work wonders. Is this true or not? Let's find out together. If your goal is a beautiful, healthy body and longevity, you better know what really helps your body stay strong.
What apples are good for
One of the most accessible fruits on the shelves of our stores and markets are apples. Their benefits have long been proven and obvious to all. So, let's just remember why they should be regularly introduced into the diet.
Benefits:
contain fiber and improve gastrointestinal function,
have a mild laxative and diuretic effect,
strengthen the nervous system,
rich in vitamin C and iron,
have bactericidal and anti-inflammatory properties.
Contraindications:
Allergies and personal intolerance,
Red fruits should preferably be excluded from children's food until the age of 3,
With increased acidity can cause irritation of the gastric mucosa,
Not recommended to use during the treatment of candidiasis and other fungal diseases,
The high sucrose and hydrocyanic acid content may cause complications in diabetic sufferers.
If you've decided it's time to part with the extra pounds, the apple diet is the most beneficial option. A low-calorie diet and the right workout will improve your well-being and correct your figure.
3 days on a delicious diet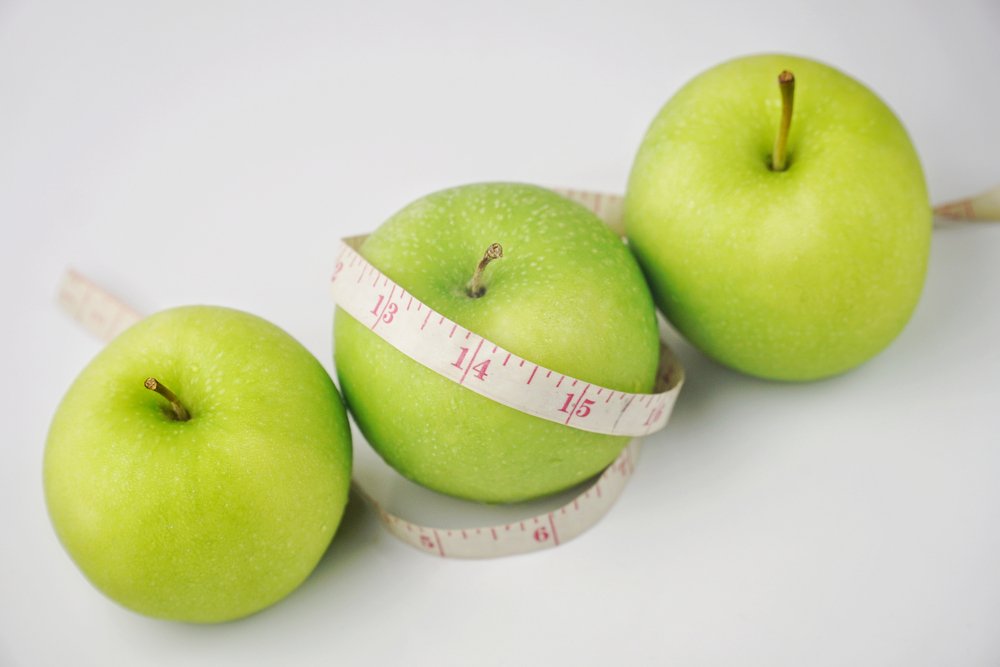 Try not to skip meals. Eat every two to three hours.
Day One
Two green apples, a glass of kefir 1% (275 ml).
An apple, a glass of green tea (280 ml) and a teaspoon of any honey.
Fish soup (270 g), buckwheat porridge (150 g) beef cutlet (115 g), vinaigrette (110 g), apple natural juice (210 ml).
A small apple, a glass of mineral water without gas.
Cabbage stew with beef (290 g), tea without sugar (255 ml).
Apple drink.
Overnight apple drink recipe
One large red apple is washed, scalded with boiling water to remove the manufacturing wax and grated on a fine grater. Place in an enamel bowl. Add half a teaspoon of dill seed, a couple of mint leaves and one tablespoon of honey. Pour boiling water (400 ml.), stir it and let it cool down. Strain. The drink is ready to drink.
Day Two
Fruit salad (320 g), a glass of ryazhenka 1% (210 ml).
Apple, tea without sugar. Can be replaced by coffee without cream.
Borscht (230 g), pilaf with mushrooms (245 g), water without gas, compote.
Medium sized yellow apple, still water.
Boiled chicken breast (130 g), hot broth (220 ml), apple.
Apple drink.
Fruit salad
Wash and peel one apple, banana, and pear, cut into cubes, and put them all in a salad bowl. Add cinnamon on the tip of a knife. Pour in the matzoni and stir.
Day Three
Hard-boiled quail eggs (2 pcs.), apple, coffee.
Apple, buckwheat tea without sugar (235 ml).
Okochka on kefir 1% with chicken breast (310 ml), vegetable stew (200 g), vegetable slices (115 g), sugar-free tea.
Apple, mineral water without gas.
Fruit and vegetable snack (250 g), kefir 1% (300 ml).
Apple drink.
Fruit and vegetable snack
Apple (220 g), beet (200 g), carrot (100 g) wash, peel and grate on a coarse grater. In a bowl, mix together, sprinkle with sesame seeds and add two tablespoons of olive oil. Store in the refrigerator for no more than a day.
A little bit about sports
Proper weight loss is not just about cutting calories. Physical activity increases calorie expenditure, improves tone and oxygenates the blood. Adjusting your menu won't make your figure look good, it won't tighten your muscles. And the best friend of a beautiful complexion is a long stay in the fresh air.
You don't have to buy a gym membership and take guidance from an expensive trainer. You can walk in the park every day. Two hours of walking before going to bed will improve your health and increase your immunity. A hundred jumping rope will strengthen the heart muscle and benefit the lungs. And a couple of hours of active dance moves is a charge of vivacity and great mood!
Bless you!
Read also:
The articles on this site are for information purposes only. The site administrators are not responsible for attempting to apply any recipe, advice or diet, nor do they guarantee that the information provided will help or harm you personally. Be cautious and always consult a doctor or nutritionist!
*All products recommended are selected by our editorial team. Some of our articles include affiliate links. If you buy something through one of these links, you help us earn a small commission from the seller and thus support the writing of useful and quality articles.