Do you want to get rid of extra pounds? It's worth thinking about physical activity and proper nutrition. And it is better to make a detailed plan. How to make a fitness program for weight loss?
Workout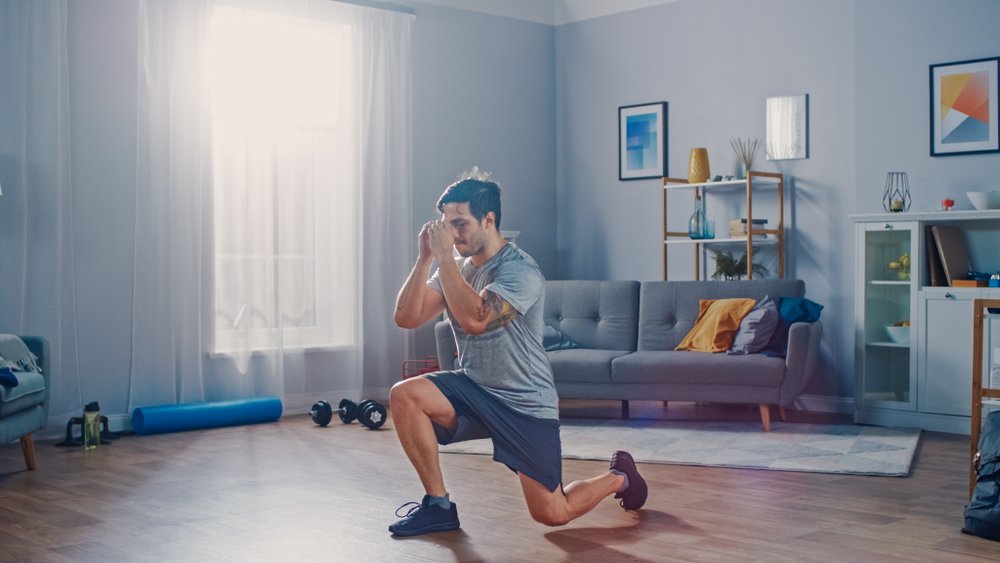 If you have the desire and opportunity, you can go to the gym, or you can train at home. The main thing is to follow the basic principles.
The optimal training frequency is 3-4 times a week. It is necessary to alternate aerobic and anaerobic loads. The training program should be built as follows: 1-2 times a week cardio and a couple of times a week power. You can use equipment or do without it. The weight loss program must include exercises for all muscle groups.
Before the exercise, you should do a warm-up. Walking on the spot, waving your arms and legs, circular pelvic movements, jumping on the spot will do.
A basic set of exercises:
Raises arms upward – both arms spread apart, raise up, spread again and lower. Do 20 times.
Bend forward, left and right. Do 20 times to each side.
Swing your legs forward, backward and to the sides 15-20 times each.
Perform squats to a right angle in the knees. You can increase the load and perform jumps at the moment of returning to the starting position 15 times.
Lift straight legs up while lying on your back. Lift and lower your legs slowly. Do this 15 times.
Pelvic raises – lie on the floor, bend your knees, stretch your arms along your body and lift your pelvis, holding that position for ten seconds. Do two approaches, 10 times each.
Boat – lie on your stomach, stretch your arms forward, lift your arms and legs off the floor and hold that position for 8-10 seconds. Do it 10 times.
Knee push-ups – do 8-10 times.
After the set of exercises you should do a warm-up. You can do breathing exercises, walking on the spot.
Proper nutrition
Losing weight is impossible without proper nutrition. That's why it's worth adjusting your menu.
In the diet must be lean meat and fish, dairy products with a low percentage of fat, a lot of vegetables, fruits, herbs, berries, cereals.
Breakfast should be dense, it is worth choosing dishes of cottage cheese, eggs, cereals. For lunch, the first course is suitable, as well as meat (fish) and vegetables. Dinner is light and nutritious. Fish, cottage cheese, and vegetables are worth choosing. Snacks are healthy and light: vegetables, fruits, berries, smoothies, cottage cheese, yogurt, nuts, dried fruits. There should be plenty of fresh vegetables on the menu. Cucumbers, celery, pumpkin, sweet peppers and tomatoes are excellent choices. You can make salads, smoothies and snacks.
Heat treatment should be gentle. You can boil, stew, and bake. Portions should be small.
It is important to drink plenty of clean water. You should take it with you when you work out. You can add a slice of lemon to the water to improve its taste. In addition, you can drink compotes, morsels, tea without sugar, and freshly squeezed juices.
Example menu:
Breakfast: smoothie with banana, oatmeal, milk and cinnamon;
snack: sandwich with boiled meat, tomato and lettuce, green tea;
lunch: zucchini soup puree, baked fish, coleslaw and sweet peppers, slice of bread, cranberry juice;
Afternoon snack: cottage cheese with blueberries;
dinner: vegetable stew, kefir.
How to lose weight properly? Make a detailed fitness program, adjust your diet, and tune in for the long haul.
The articles on this site are for information purposes only. The site administrators are not responsible for attempting to apply any recipe, advice or diet, nor do they guarantee that the information provided will help or harm you personally. Be cautious and always consult a doctor or nutritionist!
*All products recommended are selected by our editorial team. Some of our articles include affiliate links. If you buy something through one of these links, you help us earn a small commission from the seller and thus support the writing of useful and quality articles.